Small Unmanned Air Vehicle Achieves Record Flight Time Using Hybrid Fuel Cell/Battery Energy Storage System
October 31, 2007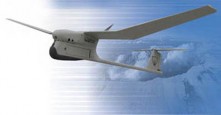 AFRL engineers, in conjunction with Small Business Innovation Research partners AeroVironment (AV), Protonex Technology (PTX) Corporation, and Millennium Cell (MCEL), successfully flight-demonstrated Puma, AV's hand-launched small unmanned air vehicle (SUAV) that gets its power from a hybrid fuel cell/battery energy storage system. Puma flew for 7+ continuous hours on power supplied by PTX Corporation's PTX.L fuel cell system. The hybridized proton exchange membrane fuel cell employs a lithium ion battery to provide peak power during takeoff and dash maneuvers; the fuel cell recharges the battery and provides continuous steady-state power for the plane and payload during cruise flight. MCEL provided a fuel cartridge of sodium borohydride (chemical hydride), which provided the fuel necessary for the fuel cell system's 7-hour, 3-minute flight.
The duration of Puma's flight represents a substantial increase in flight time for this class of SUAV. The standard Puma has a flight time of 2.5 hours on rechargeable batteries, while other electric SUAVs used by the military have flight times ranging from 45 minutes to 1.5 hours. The Puma SUAV delivers advanced flexibility and endurance, with an adaptable design that permits the addition of custom payloads in lieu of the air vehicle's standard configuration of color and infrared cameras. In addition to being easy to deploy and use, Puma allows operators to view both stationary targets and moving targets. The platform provides real-time intelligence via persistent low-altitude reconnaissance with a low noise signature.
The hand-launched Puma weighed 14 lbs, including its onboard fuel cell system and single onboard camera. Future flight demonstrations will seek to extend the plane's flight time, reduce its weight, and provide room for a full payload.
For additional information on this technology contact AFRL/PR .(JavaScript must be enabled to view this email address), (937)255-3428. To receive more information about AFRL, visit the Homepage at www.wpafb.af.mil/afrl. (PR-S-07-16)
---
About AeroVironment, Inc. (AV)
AeroVironment (NASDAQ: AVAV) is a global leader in intelligent multi-domain robotic systems, uncrewed aircraft and ground systems, sensors, software analytics and connectivity. Headquartered in Arlington, Virginia, AeroVironment delivers actionable intelligence so our customers can proceed with certainty. For more information, visit www.avinc.com.
---
Safe Harbor Statement
Certain statements in this press release may constitute "forward-looking statements" as that term is defined in the Private Securities Litigation Reform Act of 1995. These statements are made on the basis of current expectations, forecasts and assumptions that involve risks and uncertainties, including, but not limited to, economic, competitive, governmental and technological factors outside of our control, that may cause our business, strategy or actual results to differ materially from those expressed or implied. Factors that could cause actual results to differ materially from the forward-looking statements include, but are not limited to, our ability to perform under existing contracts and obtain additional contracts; changes in the regulatory environment; the activities of competitors; failure of the markets in which we operate to grow; failure to expand into new markets; failure to develop new products or integrate new technology with current products; and general economic and business conditions in the United States and elsewhere in the world. For a further list and description of such risks and uncertainties, see the reports we file with the Securities and Exchange Commission. We do not intend, and undertake no obligation, to update any forward-looking statements, whether as a result of new information, future events or otherwise.
---
Additional AV News:
click here
AV Media Gallery:
click here
Contact:
AeroVironment, Inc.
Ashley Riser
+1 (805) 520-8350
.(JavaScript must be enabled to view this email address)
Mark Boyer
For AeroVironment, Inc.
+1 (310) 229-5956
.(JavaScript must be enabled to view this email address)